VANTAGE ThermalHEART aluminium windows and doors
For a warmer, healthier and more comfortable home
Double-glazing is standard these days. But Vantage's innovative ThermalHEART technology takes the fight against winter cold a step further, with an additional thermal insulator stitched into the core of every aluminium profile.
ThermalHEART offers: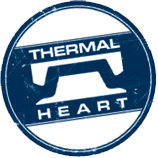 Thermal performance up to 35% better than standard double glazed windows
A full range of window and door options are available
Heights of up to 2.1m for Residential Series and 2.4m for Metro Series generally apply
Dual colour is available within the Metro Series range - different colours on the interior and exterior.

COMFORT
Choosing windows and doors that increase your family's wellbeing makes perfect sense

WARMTH
Keeping cool temperatures out in colder months, and decreasing solar gain in warmer months assists in year-round warmth and comfort.

HEALTH
ThermalHEART reduces the risk of condensation forming, therefore reducing the risk of mould growth.